Updated On: Aug 234, 2021
About the FOP Star
The emblem adopted by the National Fraternal Order of Police is designed to remind the membership of the duties that are expected of them as a citizen, a police officer and a member of the lodge. The five-cornered star tends to remind us of the allegiance we owe to our Flag and is a symbol of the authority with which we are entrusted. It is an honor the people we serve bestow upon us. They place their confidence and trust in us; serve them proudly.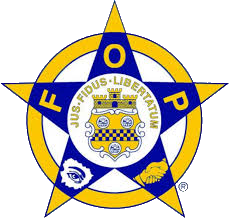 Midway between the points and center of the star is a blue field representative of the thin blue line protecting those we serve. The points are of gold, which indicates the position under which we are now serving. The background is white, the unstained color representing the purity with which we should serve. We shall not let anything corrupt be injected into our order. Therefore, our colors are blue, gold and white.

The open eye is the eye of vigilance ever looking for danger and protecting all those under its care while they sleep or while awake. The clasped hands denote friendship. The hand of friendship is always extended to those in need of our comfort.

The circle surrounding the star midway indicates our never ending efforts to promote the welfare and advancement of this order. Within the half circle over the centerpiece is our motto, "Jus, Fidus, Libertatum" which translated means "Law Is a Safeguard of Freedom."